Mailchimp is one of the B2B SaaS leaders in email automation. Their journey makes up one of the most interesting B2B Success stories. Mailchimp has a strict policy of being as unique and creative as possible. So this article won't be just like a typical blog that you read online. We have captured the essence of what makes Mailchimp different from their competitors while covering their journey of becoming a multimillion-dollar company. At the end of the blog, we have some actionable takeaways learned from Mailchimp that you can implement in your business. Without further ado, let's get started.
Short on time? Jump around any section
History and overview of Mailchimp
Mailchimp was founded in 2001 by 2 believers namely Ben Chestnut and Dan Kurzius who used to run a web design company. It was a side project for many years until Chestnut found out some old code that he had written for a failed project earlier. Their passion was just to help other businesses. They were committed to their dream. They took correct decisions in that direction. After a lot of hard work and cups of coffee, currently, they are leading the email automation market. It was ranked No. 9 on the Forbes Cloud 100 list 2017.
Today, it is a 360 marketing automation platform that will help you attain all your marketing goals within one dashboard. Even after becoming one of the leaders in the email service industry, they have kept their main focus on helping small businesses grow. That's what drives the company in the right direction.
What makes Mailchimp different
Here are three interesting and weird things that make Mail Chimp different from other platforms in the domain.
1. The Mindset of Leaders of Mailchimp
The founders of Mailchimp have a very clear understanding of their end goal. They have identified that they want to help small businesses. That's why all of their marketing, programming, or selling decisions are masked with that vision.
Ben Chestnut (Co-founder) was asked in an interview, what is the reason behind the success of Mailchimp?
He replied,
"Being different. Different in our design, our name, our personality, our approach with customers, and just about everything. By being different, and therefore not dwelling on the competition or playing by their rules, it basically made us more creative and nimble."
Instead of focusing on following a path with set rules, they decided to create their path and lead others towards them.
Mailchimp was very clear about their target market segment. They have wanted to serve small and medium scale businesses with great user experience. They could have ended up changing their tool's design a little bit making it more formal to attract corporate customers and might have branded themself as more formal. But they decided to stick to their vision.
"The whole point of starting a software business, in our opinion, was to make scalable, self-serve apps. We felt like we shouldn't need to talk to these corporate customers, nor should they waste any of their time talking to us (they should be spending their time smelling flowers, or hugging their mothers and stuff). The app should be so easy, they just get things done."
When someone is talking about Mailchimp, they cannot ignore their Mascot. Frederick von Chimpenheimer IV aka "Freddie" is the name of that monkey. The interesting story behind Freddie is that there is no story.
It might sound funny but the founders had a philosophy that "If all else fails, add a monkey. Clients love monkeys."
They even named the brand through the same philosophy. They never spent much time developing a brand identity. They gave that monkey the most absurd name that they could think of.
Slowly, as the company started to grow, people started giving a personality to Freddie. It was never meant to be the brand identity but now Mailchimp has an amazing brand recall due to Freddie. You will see the monkey branding on their dashboard as well.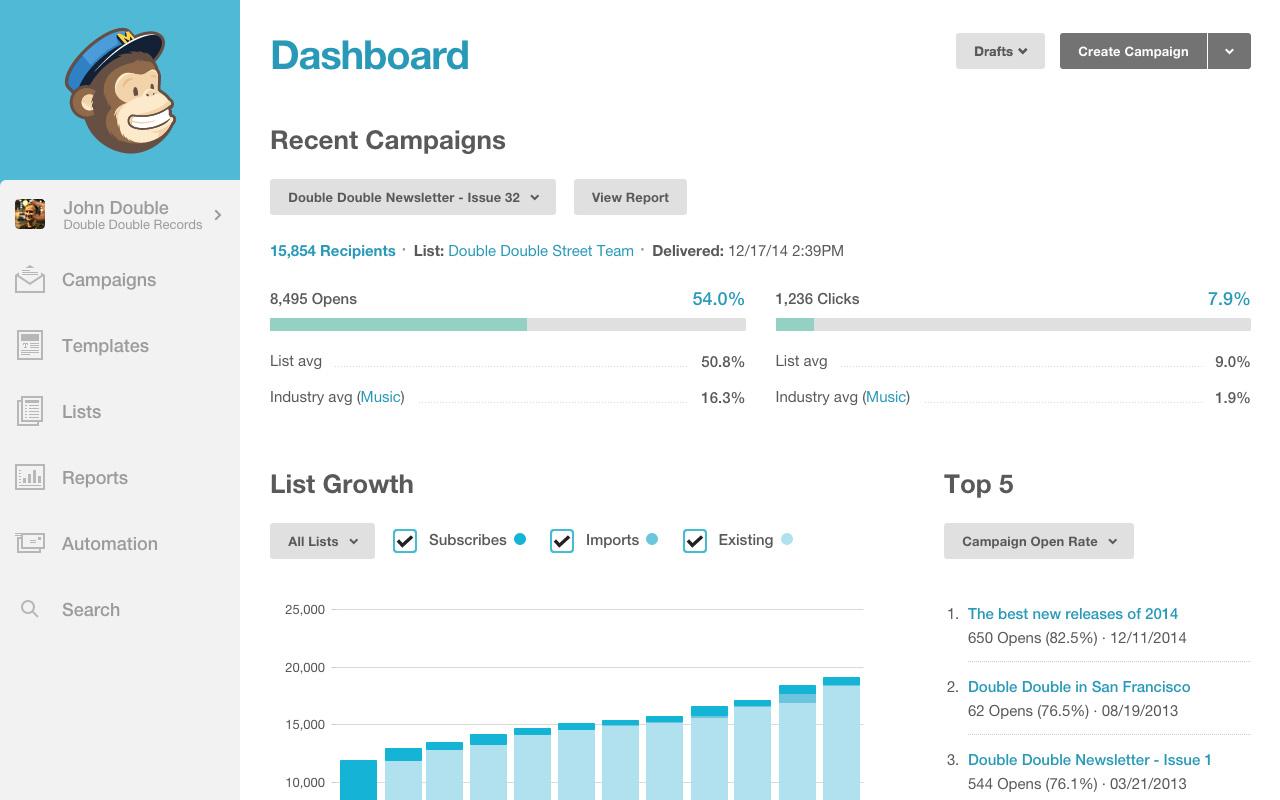 3. A few right decisions at the right time 
Mailchimp has learned to empathize and understand the exact need of their target audience. Mailchimp, itself, was a small business when it started. It stayed like that for years. They have the first-hand experience of how small businesses operate, what are their needs, and what exactly do they want. That's why they decided to go Freemium in September 2009. A pricing strategy where the company provides a free version of their tool to the customers to use. It's not a free trial. It is free forever.
For a user's first 500 subscribers, all of Mailchimp's features would be 100% free to use. As long as their subscriber count stayed below that number, it'd be free to use forever. 
Most people called it an idiotic move as they thought Mailchimp will lose business and hinder their growth. But empathy is a powerful weapon. Just after they launched their freemium plan:
They grew their user base by 500%, from 85,000 to 450,000.
They consistently added 30,000 new free users and 4,000 new paying customers each month.
Their profit grew by 650%. 
(Source)
In the time of Pandemic, when almost all the small businesses are suffering, Mailchimp decided to give price relief worth $10 million.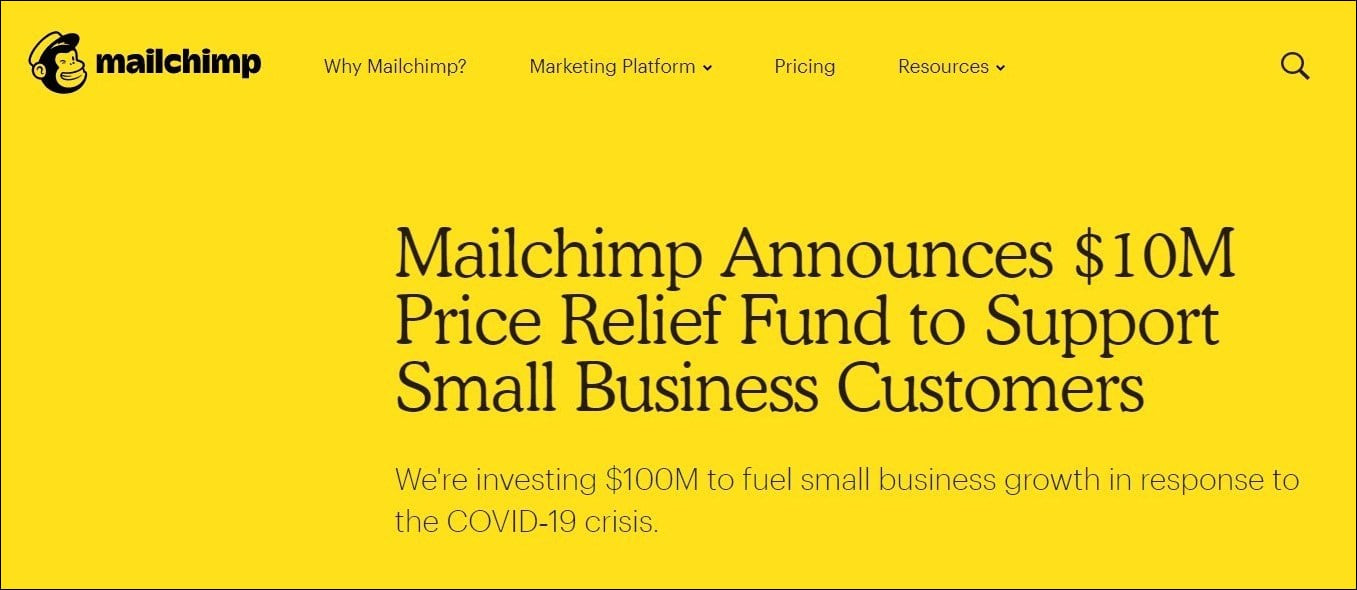 Actionable Takeaways from Mailchimp
Here are some actionable takeaways that we learned from the Mailchimp:
1. Strong Understanding of Target Market
Mailchimp's target market has been small businesses. Since the beginning, they knew how small businesses operate from top to bottom. In their 19 years of successful journey, they have always catered to them without deviating to a different market for short term cash grabbing opportunities. This does not necessarily mean that you cannot experiment on your target market and try expanding your audience. But first, you need to identify your user persona and think in a way of solving their problems.
2. Taking Calculated Risks in Business
There was a huge risk in making their product freemium as all the "experts" and "consultants" had forecasted it to go wrong. Mailchimp took a calculated risk by making it's product freely available for everyone until they reached the mark of 500 subscribers. It worked miraculously well for them. They increased their profits to more than 6 folds just by this one change. While you are running a business, you might hold yourself back while taking risky decisions. Instead of doing that, try and calculate what could go wrong. You will be surprised by what you see.
3. Think Design
The success story of Mailchimp is directly correlated with their efforts in designing their brand. They have successfully designed a simple, fun, and flexible platform that integrates with other tools in your tech stack. Design is not just using tools photoshop and illustrator to create images for your brand. It is an abstract art form that plays with customer psychology and helps you create a brand image in their mind. Use the art of designing for your own business. Even if it does nothing for you (which is hardly possible), it would help you make your business look better.
Conclusion
Something that began as a rough side project is one of the biggest tech companies in the world. Their journey has been a rollercoaster ride but throughout their journey, they always reminded themselves to listen to the customers and solve their problems. If you had fun reading this, you should read the Fun and Flexible B2B success story of Slack and Trello that we posted earlier. If there is a B2B success story that you want us to cover next, let us know in the comments down below.