This is a continuation of our series Fun and Flexible B2B success stories. Here we explain how the elements of fun and flexibility are no longer an extra something give by the brand with real-life examples to successful brands. Last time we did an analysis of Slack and dissected everything that makes Slack a fun and flexible B2B SaaS product. Today, we are going to talk about Trello. If you have worked with any kind of project management tool, it's safe to assume that you have used or at least heard of Trello. It is a Kanban-style application used to organize work. This problem has been solved by lots of tools. But in this blog, we are going to explain to you how was Trello able to become the remarkable brand it is today.
What makes Trello Different?
Let's just give you a brief about the product. Trello is an easy to use project management software. It is customizable and can be integrated with a plethora of different tools around the internet. It helps you visually think and arrange the project that you are working on. Regardless of your professional position, you would be able to make use of this project management tool.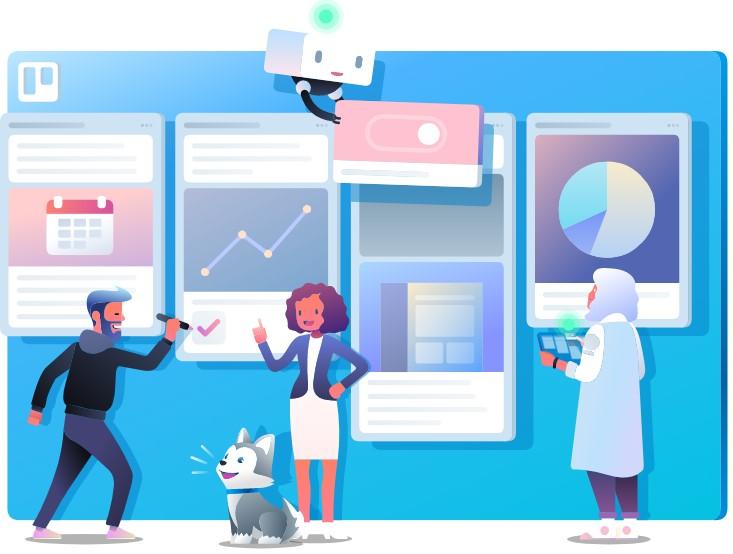 The best part about using Trello is that it has simplified the way project management works. You do not need to be an expert to understand this tool. That's why it was able to capture a big share of the project management market.
There are certain things about Trello that makes it different from other project management tool. Slack is a B2B tool yet it doesn't fit in the traditional image of a B2B tool. The first thing that pops in your head when someone says the words B2B tool is a boring, lifeless, although functional but not fun tool. Trello not only to rejected to follow this path but also created their own path where they can lead others too.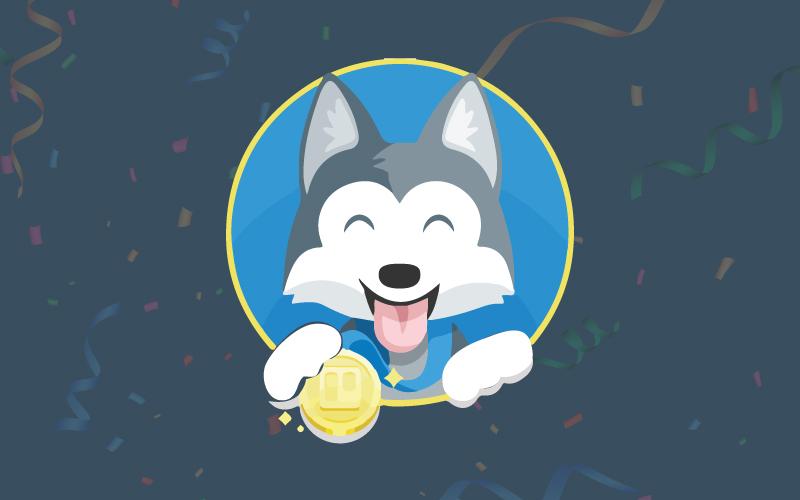 If you have been using Trello long enough, there is no way you haven't seen Taco. Trello's Founder Joel Spolsky had a husky named Taco. He decided to make Taco, the official spokesperson "spokes-husky" for Trello.
Taco is now more than just a mascot. It has become their brand identity. People remember Trello from this symbol. When the dog passed away, Spolsky tweeted the following:
Twitter was filled with comments full of condolences. This shows how much power storytelling can have in developing an emotional connection between customers and business. I am sure Taco is looking at his owner from up there and is super proud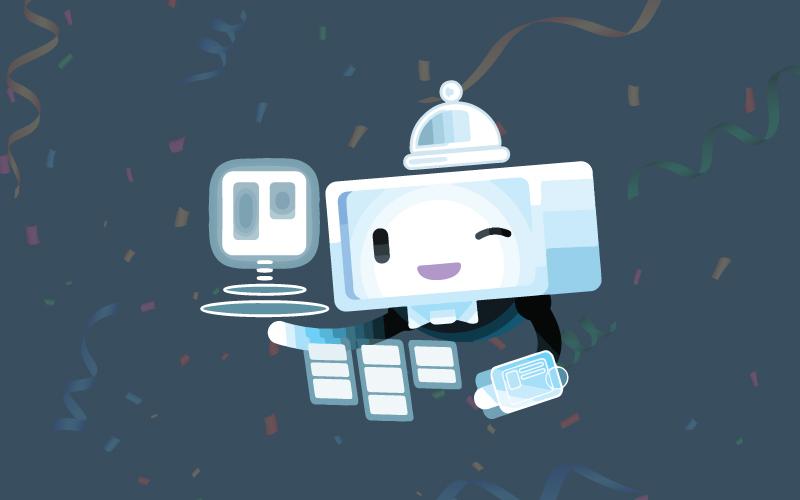 A lot of project management tools are pre-loaded with automation but none of them would walk you through it as Trello does. Butler is a tool that uses and analyzes your daily activity to create automation suggestions for you.
Butler learns from everything that you do and creates rule suggestions on your Trello board. For example, if there is a member in your company who is added in every card that is assigned on the budget board, you can ask butler. It will create automation for you.
Butler bot can 
Move a card from one list to another, 
Add or remove a label from a card.
These were some of the features of the Butler. You can explore it more on their blog regarding Butler. This bot could have been called "Automation master", "business automation" or anything of that sort, but Trello decided to have fun with it by naming it, Butler. 
If you have followed any communication channels of Trello, you must have learned one thing. The tone of their language is different. It is not formal, bland. It does not fit in the standards of traditional B2B solutions. 
Let's see the language of some of its blog chronologically.
1. This is the introduction line of the blog where Trello was launched for the first time. (2011)
Do you have a whiteboard covered in Post-it notes somewhere in your office?
Yeah. Honestly, with all the fancy-schmancy "project management" software out there, I never found a way to keep track of who's supposed to be working on what and what the highest priority projects are and what their status is.
2. This is the title of their blog published in 2014 written by Brian Cervino.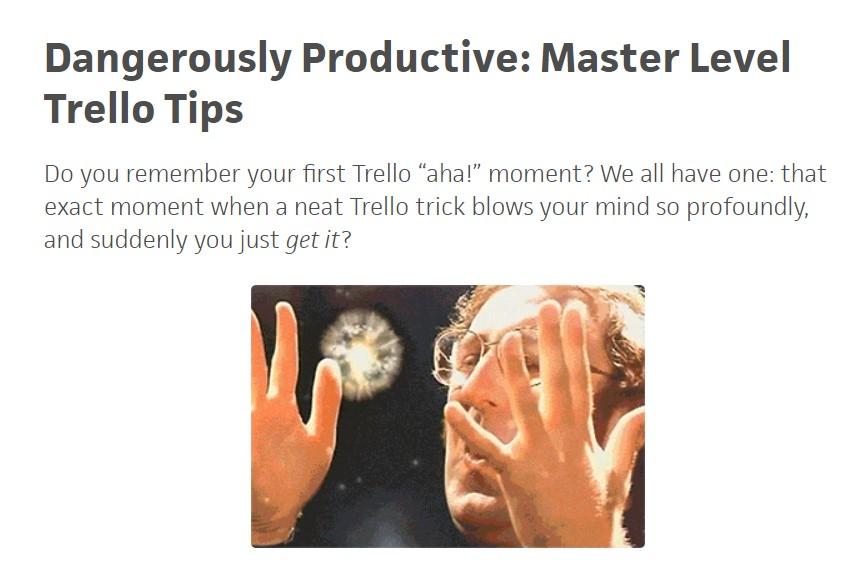 3. Another title from the blog written by Lauren Moon in 2015.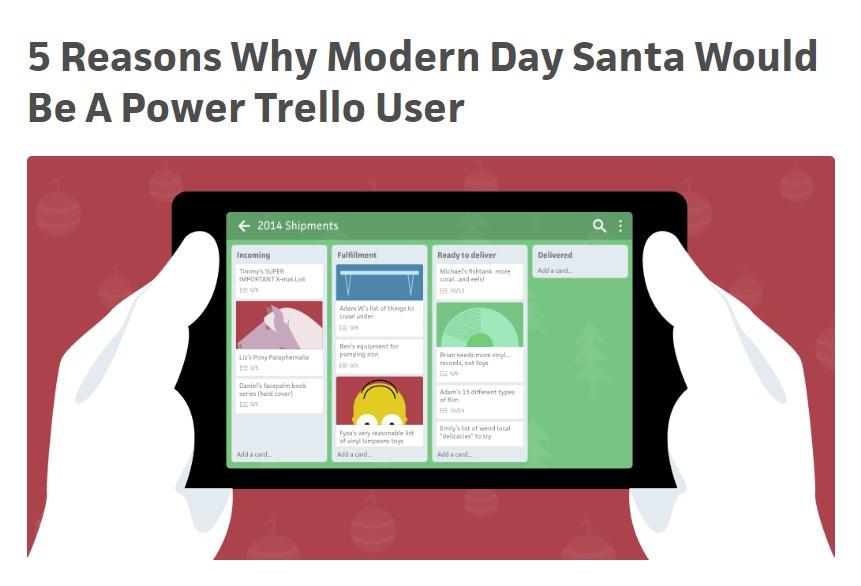 4. Here's a recent example of the earth day blog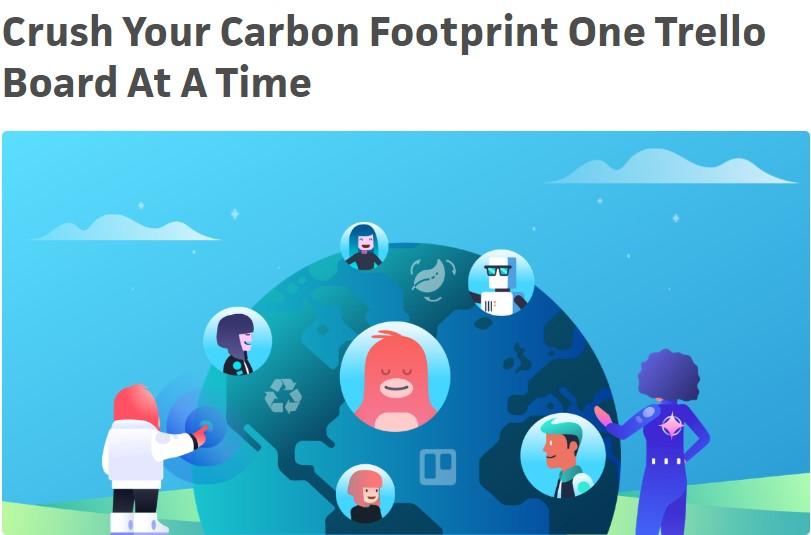 5. Here's Trello promoting their work from home series
If you look closely at each of these blogs or promotion and analyze it, you would be able to see a pattern. Trello has never tried a formal approach to communicate with their users. Since their first blog to the most recent one, each of their blogs is filled with some or the other fun element.
Actionable learning from Trello
1. Prioritize customer-facing innovation (instead of traditional approach)
Before the Trello, there were tons of big players who used to lead the project tool market. Trello introduced the concept of the Digital Kanban board with lists and cards. This approach was new, innovative, and exactly what people needed.
Some of the biggest players in the market including Airtable, Asana, and Github launched kanban themed interface. The founder of Asana went to the lengths of admitting it. Here's what he said, "We definitely give Trello full credit. That is clearly the product that has done a good job pioneering this view." Source
2. Tell a story
Today, customers do not like things getting sold to them all the time. Due to the overload of advertisers on every device and the constantly decreasing attention span, people have stopped paying attention to brands that are simply selling. Storytelling helps you connect with your audience far better than any other marketing campaign. It's the little things (like the story behind Taco) that leaves a fleeting impression on the customers. It gives them a feeling of belongingness with the brand. This increases customer loyalty and helps your community grow bigger.
3. Make your business fun
Add easter eggs, draw cartoons, write comics, tell jokes, or do anything that matches the narrative of your brand but make sure your tool is boring. It won't stand out and that would lead to a recall problem for customers. You must make your business/tool/app/start-up fun for others. Know your audience, what they like and dislike, form up a social media strategy on the same lines.
4. Make room for customization
Users love customization. People love to bend the product especially SaaS products to their own convenience. Trello and Slack have integration and automation options that allow you to smoothen your workflow easily. It gives users the power to build their own products. Once the user is given a customization platform, the possibilities are endless. They can do anything they want according to their needs.
We strongly believe in making B2B solutions fun and Flexible. We abide by that rule. That's why we decided to be the pioneer of creating a fun and flexible fast process automation tool, Fasproc. Processes are at the core of every business. Individuals spend the majority of their time executing processes. If your business has repetitive processes (which I am sure you have), you must know the way to automate them in just minutes. Join our beta list and you would be amongst the first ones to discover Fasproc. The Fast, Fun, and Flexible process automation tool.
Conclusion
If you could keep one takeaway from the B2B success story of Trello, it should be that "Businesses should not neglect fun and flexibility in their approach". It engages the audience, it makes you memorable and it has rarely any disadvantages attached to it if you do it the right way. This millennials generation is not going to work the same way as older generations did. We need to envision a new way to cater to them. This is the way.