A marketing agency is a business that requires an insane amount of creativity and dedication towards the field. Earlier it used to be a pain to start a marketing agency, the capital and contacts were a big barrier. We are in an era where, with the right exposure to knowledge, any dedicated person can create a marketing agency. If you are starting out a marketing agency, we have some awesome actionable tips for you in this blog that would take your business processes in the right direction. If you are a marketing agency founder or marketing agency consultant, you must know how to create an awesome marketing agency process. 
What is a marketing agency and what do they actually do?
Marketing agencies are the companies that think of ideas to promote products and services of other brands. The founders of the Marketing agency are some of the most creative and dedicated people in the world. These dedicated people use their creativity and years of experience to make your product look appealing to your target audience.
E.g. If you are a real estate firm that sells houses to people, you might think of advertising yourself as the same. You might put out an advertisement that says: 
But the marketing agency will tell you to take a different approach. They will tell you to put out an advertisement that says: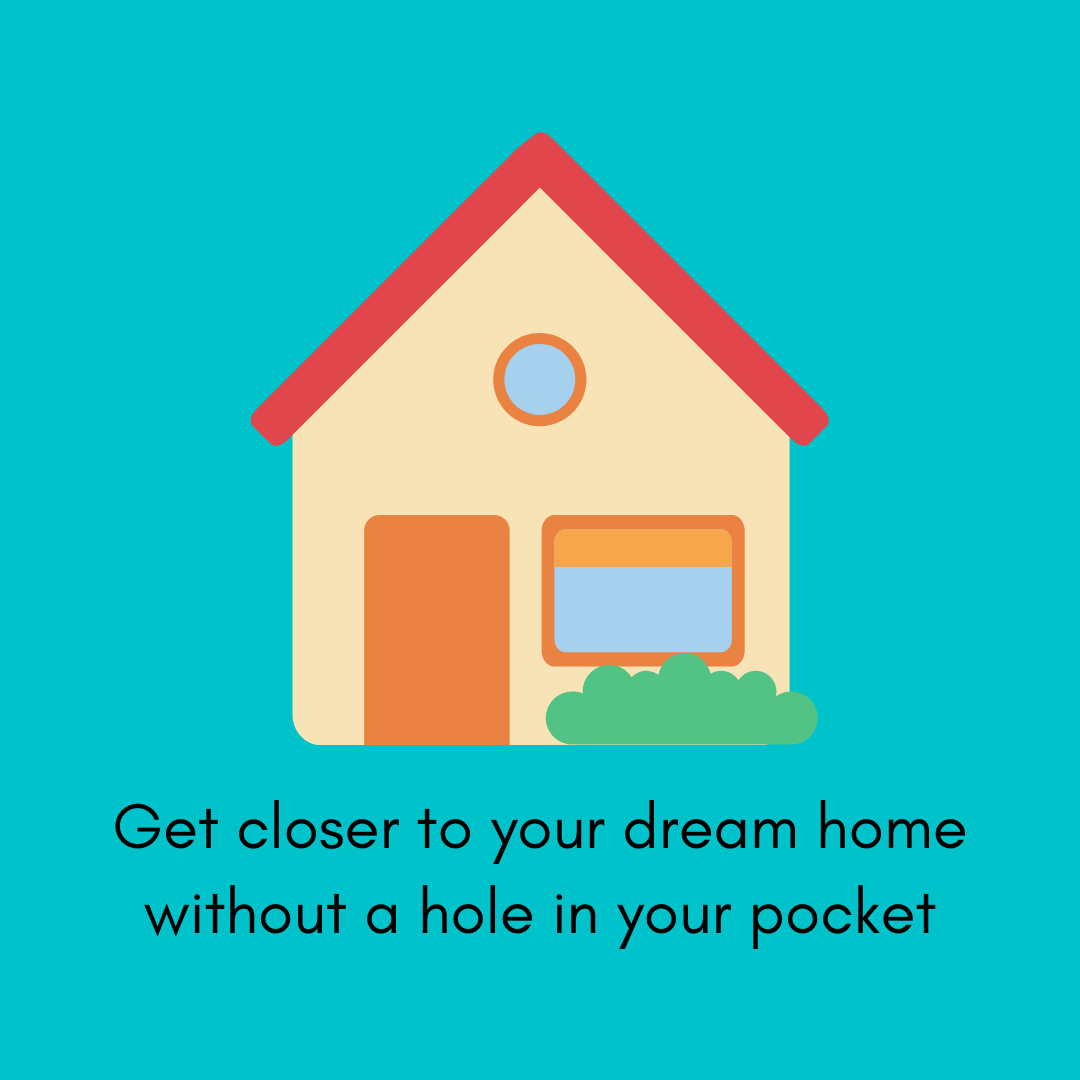 Do you see the difference between the first and the second sentence? They always find a way to humanize your brand. That's exactly what a marketing agency does.
What are the prerequisites for building a great marketing agency?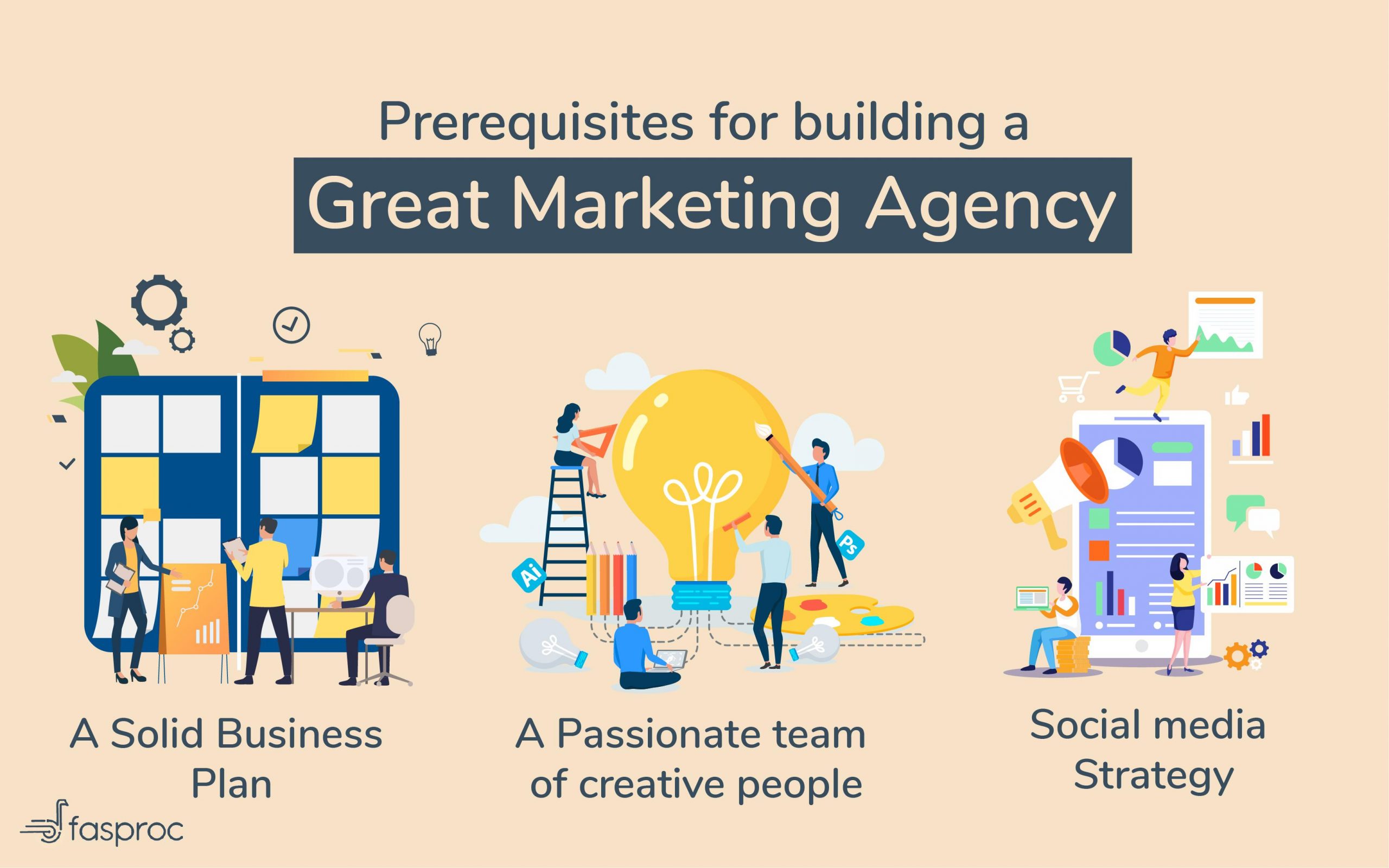 A marketing agency founder who is just starting out with an agency must know these. Here are three basic prerequisites for building a marketing agency:

1. A solid business plan 
You must have a business plan where you have set budgets, decided pricing, salaries, overheads, etc. This business plan is a basic model of how the money will flow through your organization and how authorities and responsibilities will be divided across the board. So creating a business plan would be your first prerequisites. 
2. A passionate team of creative people
It is really important that you hire creative people for your company. Marketing isn't an academic job where you can give someone a method of doing things and it will flow. It is a creative process where brainstorming and having a creative company is important. Your team should consist of –
Copywriter – the person who thinks and writes copies for your advertisement.
Designer – the person who visualizes, illustrates and designs the ideas generated by the copywriter.
Client manager – the person who understands client requirements and gets in touch with the copywriter and designer. They work as a mediator between the agency and the client.
Video editor(optional) – the person who would edit your raw clips and make great visual advertisements.
3. Social media strategy 
Having a social media strategy is not optional anymore. If you are a marketing agency, you must have a social media presence that would build your audience. You can start out with basic social media strategies to stay connected with your followers. Get started with this guide on creating social media strategy by buffer
How to start an awesome marketing agency?
Here are 7 steps to start an awesome marketing agency:
1. Find your specialty
There are millions of marketing agencies out there and above that, all the marketing strategies are freely available on the internet. In this cut-throat competition, you need to find something unique that you can do for your client. It does not necessarily mean that you have to do something that has never been done before but it should not be too generic that anyone can do.
For example:
There is a new trend of memes on social media and many marketing agencies have started meme marketing as a special service. You can start an agency that specializes in meme marketing. That could be a unique selling point.
2. Research your customers
It is important to know what segment you want to target. It really depends on the kind of agency you want to build and the kind of narrative you want to portray. If you are starting out, you cannot be the marketing agency for both the Subway sandwich and Gucci. These are two companies working in different sectors.
You can create segments on the basis of three categories :
1. Industry: Target businesses based on their industry. E.g. – Hotel industry, the shoe industry
2. Size: Target businesses based on their size. E.g. – Midsize, small size, etc
3. Marketing channel – Target businesses based on the channels they demand you to market on. E.g. – Social Media, OOH, SEO, etc.
3. List down your user persona
Once you have researched your target audience, write down the user personas. These are the documents that identify the traits of your target customer. You need to build at least 2-3 user personas for your business. 
4. Write your business plan down
Once you have created a persona, you need to create a business plan. It includes the answer to:
What will your capital inflow,
How many people will you hire,
How many things you will require,
How will you pitch your clients,
What is the mission statement of your business, etc will be included in this document.
You need to identify answers and write it done.
5. Find leads from your user persona
Once you are all set, you need to find clients. There are hundreds of ways to find clients for your marketing agency but the best one is still word of mouth. Initially, you will have to reach out to your target personas on different channels of communication like emails, calls, social media, etc. Once you have got an initial boost, your work will speak for itself. You can check out the best lead generation tools that will help you get that initial boost.
6. Promote your business
Being a marketing agency, you must know the importance of marketing your own firm. It is very important that you promote your business online and offline through all the means possible so that it can reach a larger audience.
7. Hire the right people
The most important part of a marketing agency is the people in it. Copywriters, client managers, and designers are the three main pillars of a marketing agency. You need to filter the right people. Find the people that can fit with your company culture, explain to them what you are trying to define through your business and they will become a part of your vision. This way you can create a team of best individuals.
How to build a marketing process?
Marketing agencies have project-based work from different companies. The basic structure of their processes remains the same. Although, there are changes in the structure depending on the size of the company.
1. Request a brand pitch
The first step of any agency is to request your potential clients to let you pitch your ideas to them. This is done by the Client management and sales department. It is basically identifying the brands that you can easily market. Connecting to them through different channels of communication and requesting a pitch.
2. Create a pitch
Now that the appointment with the client is fixed, you create a pitch. The copywriters and the designers will work together to create something unique for these brands. After a lot of brainstorming sessions and coffees, you will have a pitch ready. This is one of the most important parts of your marketing agency business process.
3. Present the idea
Once your pitch is ready, you need to have a meeting with your client where you present this pitch. Ideally, it is created in a presentation app such as Microsoft PowerPoint or Prezi. You can get creative with your presentation.
4. Work on the deliverables
Once the client is ready to give you the project, you start working on the deliverables. You need to finish the copies and designs (photo/video) before the deadline because clients will most of the time ask you to change something. Decide beforehand on how you are going to receive the payments. It could be according to the deadline, the time you put in, the amount of deliverables, etc. It completely depends on your business plan.
5. Work on changes and finish the project
When the client comes up with the changes or suggestions, listen to their feedback. Have constructive criticism from them but explain why you kept that in the first place. Work on what you have concluded after suggestions from clients. Finalize the deliverables. This last step requires input from all the departments i.e. copywriting, client management, and art. This is the last part of your process. Try and create a long-lasting relationship with the client so that you keep on getting regular work and grow.
Takeaway from understanding Marketing Agency Processes
This is how you create an awesome marketing agency process. Start analyzing the different marketing channels used by leading marketing agencies. It will help you find your niche faster and more efficiently. Finding the right people is really important and creating a process for them is equally important. If you have any other questions or doubts regarding developing a marketing agency process, let us know in the comment section down below.